Overview
Leads and the algorithms employed by Carriers such as Hiya, FirstOrion, and TNS are flagging and blocking DIDs.
We have noticed quirks in these algorithms, such as Spam flags appearing and disappearing on the same day.
These quirks and other variables, such as third-party call screening apps and Lead reporting, have eliminated the possibility of creating the perfect Caller ID Reputation Management.
We want to provide the following guidelines for managing your DIDs within the Convoso system based on patterns we have found in consumer and Carrier flagging practices.
---
Contents
---
ClearCallerID
Convoso's ClearCallerID Dashboard provides insight into the reputation of an Account's DIDs and how these reputations affect Contact and Success Rates. The Dashboard reports flags, blocks, and FCC Complaints for DIDs based on weekly reputation checks.
This tool assists allows for better tracking of whether your numbers appear as Potential Spam, Telemarketer, or Scam Likely on the Lead's

Caller ID

. Then you can use this information to make informed decisions regarding your management and purchasing of

DIDs

.
Convoso and every automated dialer system provider must navigate a complex landscape due to bad actors in the call center industry.
There is no perfect solution for DIDs getting flagged and blocked. However, we know that DID Management is a serious concern for our clients. Thus, we developed our ClearCallerID functionality to inform our clients of the reputation of their DIDs and how they impact key performance indicators, such as Contact and Success Rates.
We are one of the only companies that can accurately report which DIDs are flagged or blocked across ALL major Carriers and even check for Complaints with the FCC. Once Admins have replaced a flagged or blocked DID, Convoso will automatically update all associated ACID Lists, Campaign details, and anything else tied to that DID.
Convoso

is one of few companies to have partnered with and have

API

access to

T-Mobile's Reputation vendor

to check their databases.
To learn more about The ClearCallerID Dashboard and how to check Caller ID Reputation, see:
---
Workflow Dialing
Convoso's system offers Workflow Dialing, allowing Admins to design unique call cadences based on dialable dispositions.
Call Cadences refer to the pattern used for dialing different types of Leads. You can use this feature to avoid an easily recognized pattern.
For example, a good cadence for a twelve-hour day might look like this: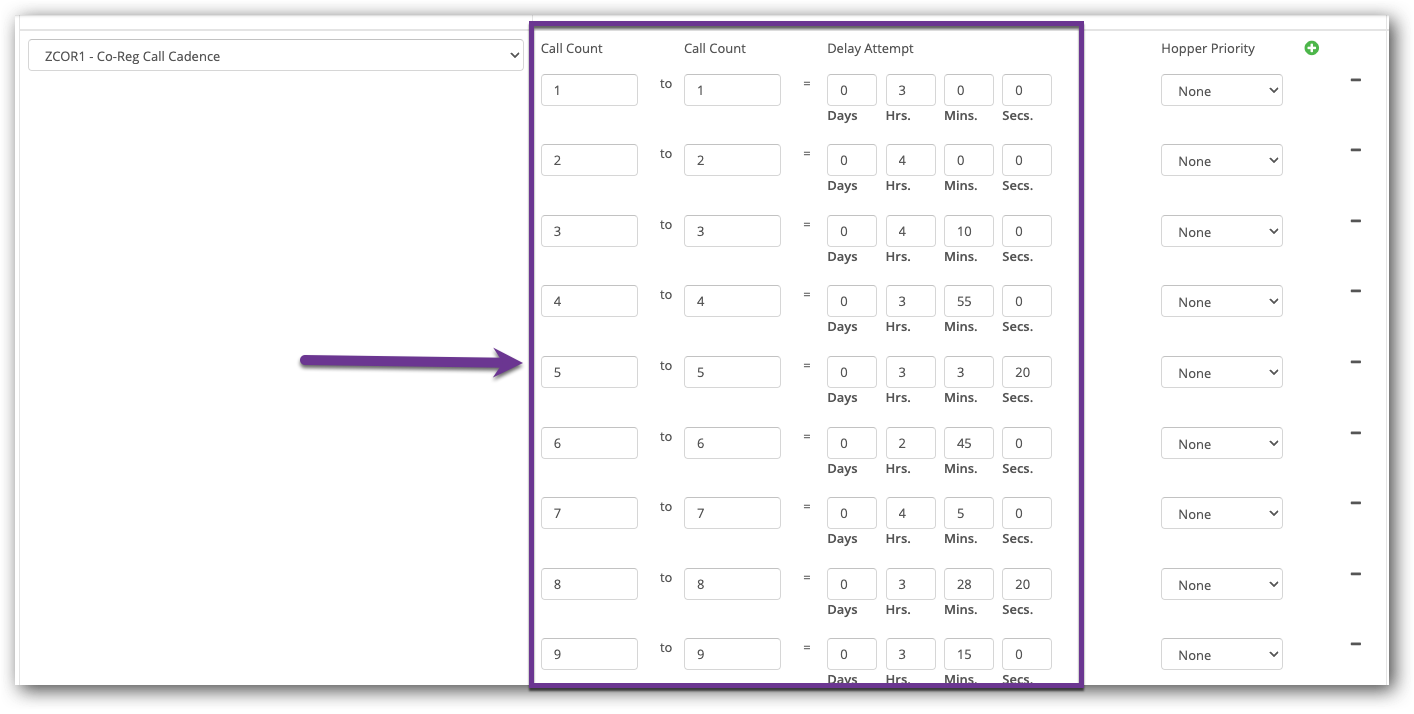 The time frames between each call count are similar but not identical. The pattern here suits lower-intent leads. You would start with shorter intervals at the first few call counts for a higher-intent cadence.
If you want more information about using Workflow Dialing, you can see: Setting up Campaign Workflow-Based Dialing.
We recommend that a single

DID not make more than 100 calls daily.

Fifty calls or less is the ideal limit for the number of calls made with a single

DID

.

Our Area Code Coverage report can be a helpful tool in keeping track of whether your ACID Lists have enough DIDs to support the number of calls you are placing per day.
For more details, please see: Using Area Code Coverage.
If you would like more information about the available settings for ACID Lists, please see: Managing your List-Based ACID Settings.
---
DID Registration
Registering your DIDs through Convoso is a simple process using the Register All Unregistered DIDs button on the Manage DIDs page. To learn more, see: DID Registration & Reputation 🎥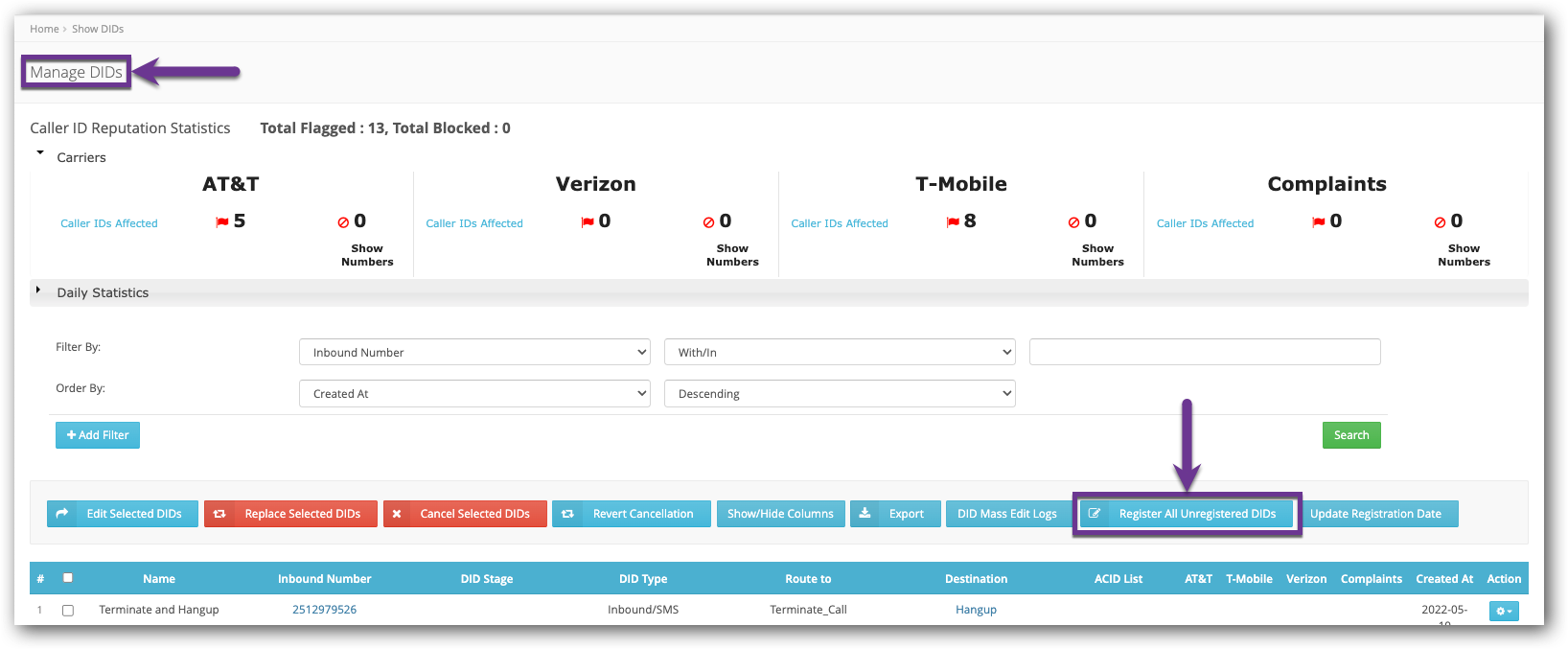 Registering your numbers with

Free Caller Registry

and

Call Transparency

can reduce your chances of being flagged or auto-blocked as spam. These agencies partner with

Hiya

,

First Orion

, and

TNS

to allow legitimate businesses to

safelist

their

DIDs

.

Registering allows call-screening organizations to differentiate legitimate traffic from scam callers and other bad actors.

SMS Campaigns have their own Registration needs and process. To learn more, see:
---
Omnichannel
Convoso's platform includes Voice, SMS, Email, and IVA (in beta).

Using multiple channels to contact clients can increase your

Success Rate

and decrease the number of dials per Lead.
---
DID Replacement
You can replace Leads flagged by your

ClearCallerID Reputation

checks.

Although some flags disappear over time, there is yet to be a definitive pattern to determine when Carriers will restore the reputation of your

DIDs

. As such, you can replace "dirty"

DIDs

with new ones as necessary.




To learn more about DID Replacement, see:
---
TCPA Compliance
The TCPA and related "mini" TCPA Regulations govern the actions of Outbound Call Centers in the interest of protecting consumers from bad actors in the Call Center Industry. Compliance with these laws is a key component in maintaining a good Caller ID Reputation.
For specific legal advice in maintaining TCPA Compliance, please consult your own legal counsel. You remain solely responsible for using the Convoso system in compliance with all laws, including the TCPA, state "mini"-TCPAs, and other regulations.
---
StateTracker
States such as Florida, Washington, and Oklahoma have begun implementing independent restrictions on Outbound calling and SMS for their residents.
Convoso's new State Tracker rule engine with built-in state and area code filters makes it easy and efficient to facilitate Compliance with new regulations.
The rule engine tracks your Contact Attempts, including SMS, and adjusts the Lead's Dialable Status according to your set parameters.

Please Note: This tool is available upon request. Please contact your Onboarding Manager or Customer Success Manager to have this feature enabled.
To learn more about this Campaign management tool, see: Using StateTracker.
---
Caller ID Branding
Increases call recognition and answered calls with the ability to include your company name, logo, and the reason for calling.

There are many Caller ID Branding services that you can register with and utilize outside of Convoso's system.
---
STIR/SHAKEN Attestation
All of our customers are STIR/SHAKEN Compliant with a B-Level Attestation.
Through our

Know Your Customer

program, we can offer

A-Level Attestation

. The most trusted

Attestation

in the industry allows Carriers to be confident that you "are who you say you are" and have permission to use the phone number displayed in the

Caller ID

.
---