Overview
The process of submitting a Help Ticket through Convoso's Help Center.
This process is the most efficient way to submit problems or questions to our Support Team.
We will go over the fields on the Submit a Request page and provide examples of cases with the best resources we have to offer in each situation.
---
Contents
---
Common Support Cases and Resources
Issue #1: Forgotten or Lost Passwords
An Agent has lost their login password and now cannot access the Agent Interface.
An Admin has lost their login password.
Resources:
See this article that instructs how to edit the credentials of any User from the Admin Dashboard: Edit User Credentials.
---
Issue #2: Audio Problems
Agents are unable to hear Leads through their headsets.
Agents are experiencing other audio problems, such as choppiness or sounding far away.
Resources:
To investigate and resolve these types of problems, see the Audio Troubleshooting section.

We recommend starting with these articles because a Support Agent would start by guiding you through these same practices before looking further into the issue.
---
Issue #3: Browser Problems
When using Convoso, one or more of your Agents are experiencing lagging, freezing, or crashing in the Google Chrome browser.
Resources:
To investigate and resolve these types of problems, see the Browser Help section.

These articles can guide you through simple solutions that will fix the browser's functionality issues.

Note

: Convoso's Browser Help articles only provide solutions for Google Chrome. Convoso does not support alternate browsers due to compatibility issues that hinder system performance.
---
Issue #4: Not Dialing
Your Agents are not getting any calls. The Campaign does not appear to be dialing any Leads.
Resources:
If the issue is localized to a single Campaign and otherwise the system is working correctly, check if the Campaign is

active

: Activate or Deactivate a Campaign.

It may have been

deactivated

even without any Admins intentionally making the change. This is easy to check and resolve.

If your Hopper is empty, there will be a red notice in the Agent Interface to address this: Red Hopper Notice (Hopper is Empty).
If the issue is intermittent or inconsistent, check the Advanced Lead Filters. Using this article, you can delete or adjust these filters to ensure they are not taking out too many Leads, preventing the Campaign from dialing: Delete/Edit Advanced Lead Filter.
If the issue is urgent, reach out to our Support Team via our Chat or Voice channels.
---
Issue #5: System Outage
Your Agents and Admins cannot access the system.
The system has frozen or become nonfunctional.
Resources:
Convoso's Engineers are vigilant in detecting network outages in our system. Our team takes care to alert the affected Clients when service interruptions take place.
We recommend you report

ongoing outages

with no existing alerts through our Support Chat or Voice channels. Our team works diligently to reduce the impact on our Clients if an outage occurs and will work to mitigate the issue quickly.

To track ongoing outages, please check Convoso's status page.
---
Creating a Help Ticket from the Help Center
1.) From the Knowledge Base Home page, click the purple Submit button below the Search bar. Or click Submit a request in the top right of the page.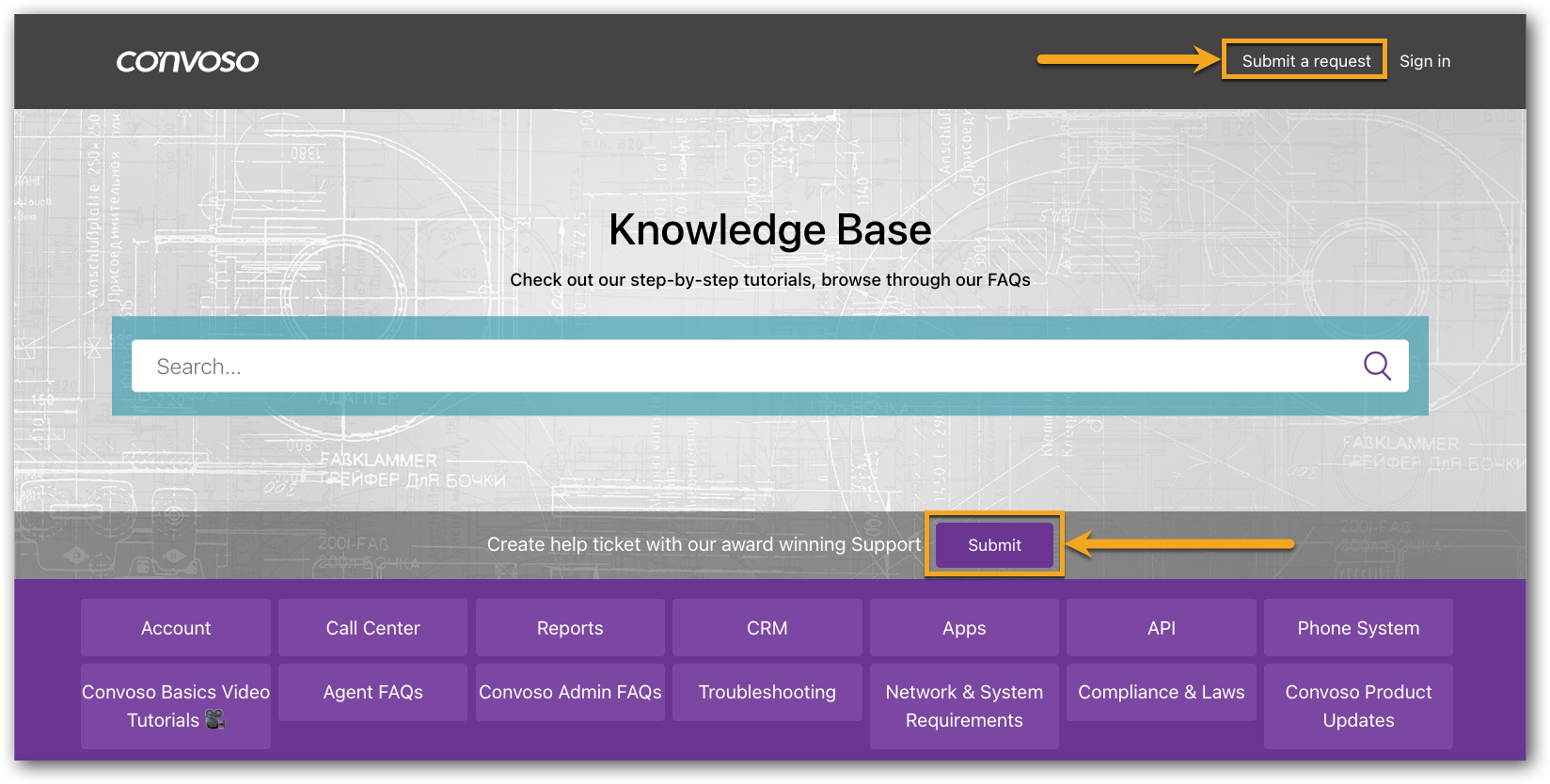 The Submit a Request page will open.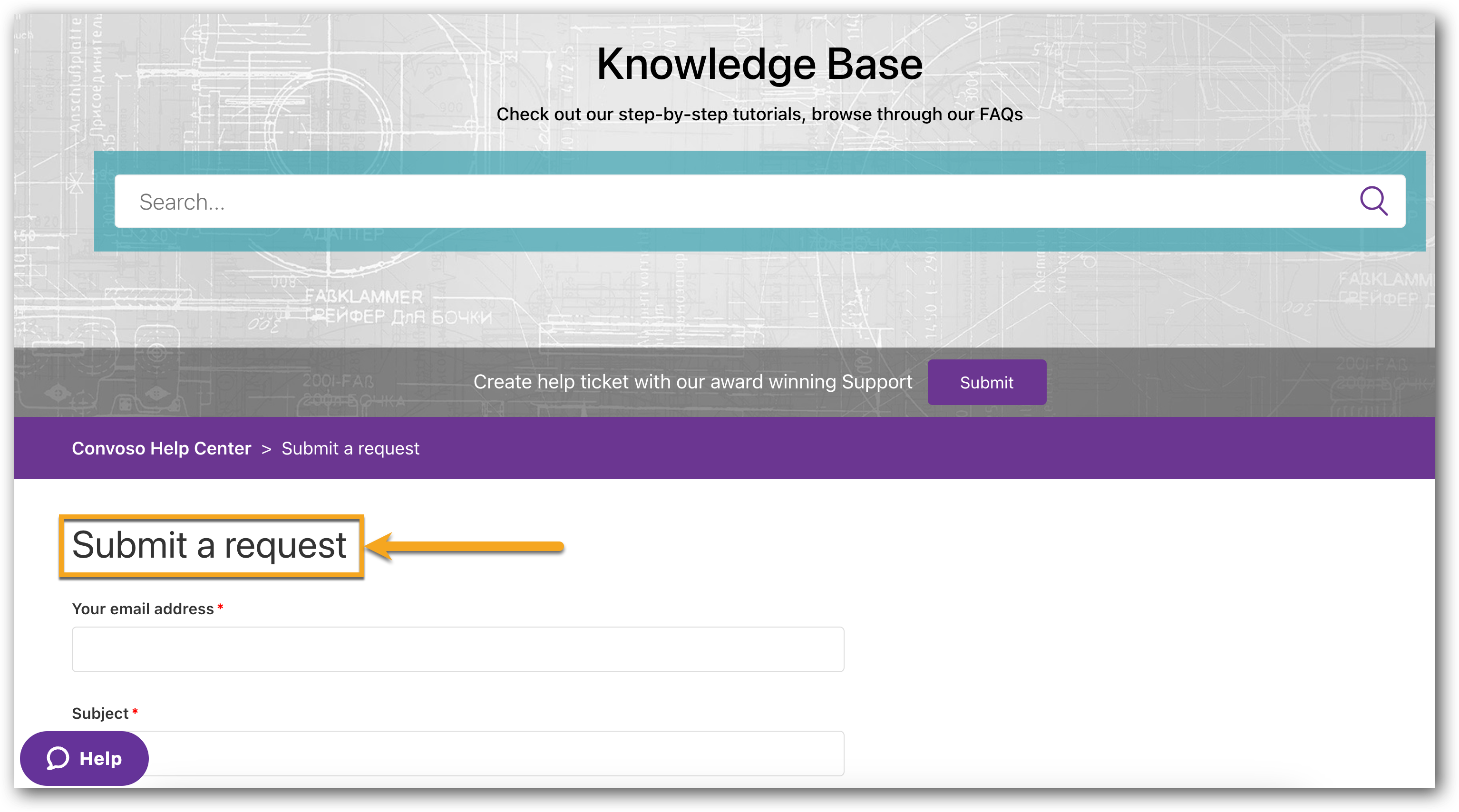 All the fields in the Submit a request form are required except for the Attachments section.
2.) Enter your email into the Your email address field.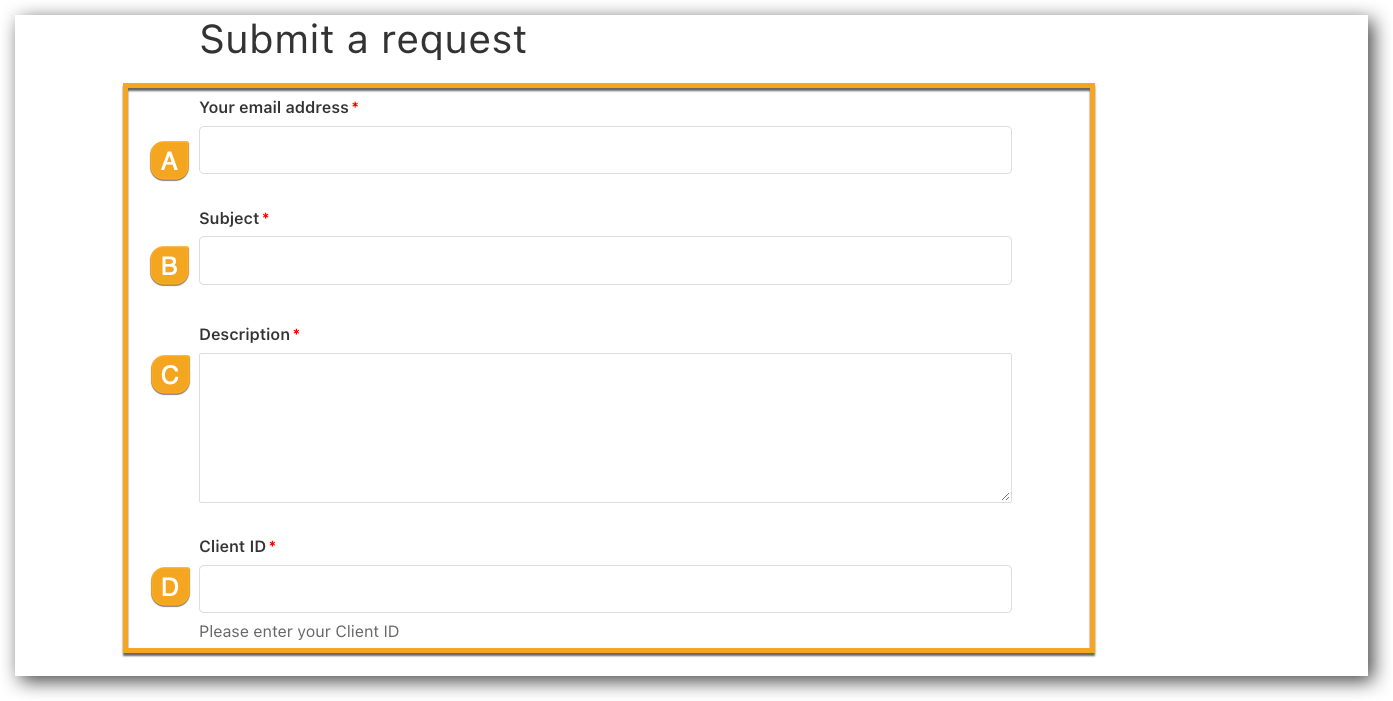 3.) Type a short explanation of your Request in the Subject field.
4.) In the Description field, enter a summary of your issue or question.
Include any steps you have taken already to correct the problem and as much detail regarding the issue to help our Support Team pinpoint the cause of the issue.
5.) Enter your 6-digit Client identification number into the Client ID field.
6.) In the Attachments field, upload any files that help will illustrate the issue you are experiencing.

Screenshots

of your specific issue and related settings within the system can be very helpful tools for our Support Team.
Other types of files, such as those related to your computer system's specifications and settings outside of Convoso.

These files ensure that our Agents have a well-rounded view of your request.
7.) Click the purple Submit button at the bottom of the form.
After you click Submit, your request enters the Support ticket inbox.
---
After Submitting a Support Ticket
Once your ticket has been assigned to a Support Agent, they will be in contact with you.
They will introduce themselves and ensure they have your preferred contact number.
As they investigate your issue, our Support Team will be in regular contact until the resolution of your issue to ensure we have addressed all of your concerns.
Note: You will also receive a Welcome email inviting you to create a password for your User Portal. To learn more: Registering with the Support Portal.
---
Support Portal: Submit a Request
The Submit a request form differs slightly for a User logged in to the Support Portal.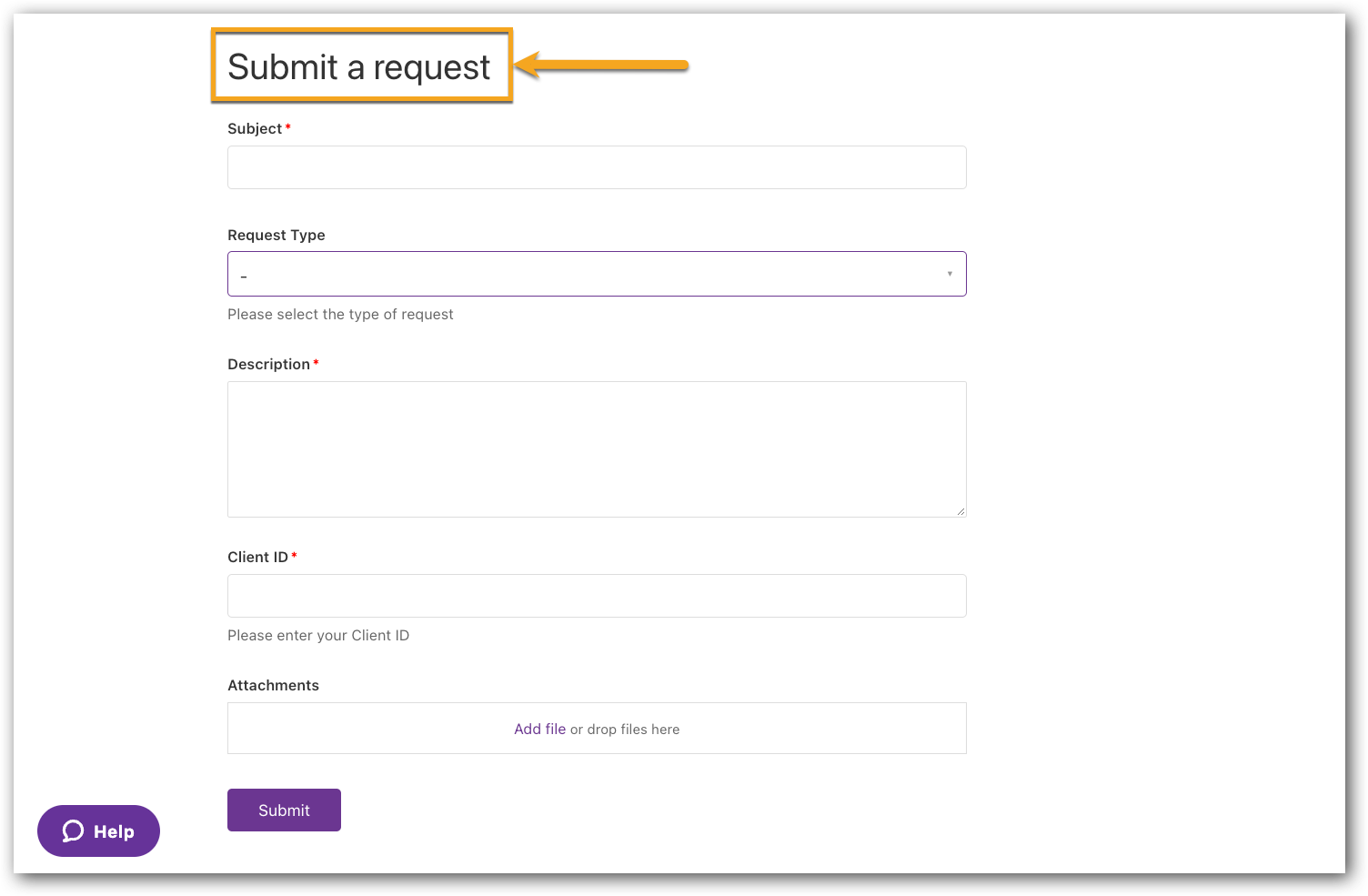 The email address field that sits above the Subject field is removed because the request is linked to the email for the Account.
A new field is also presented Request Type.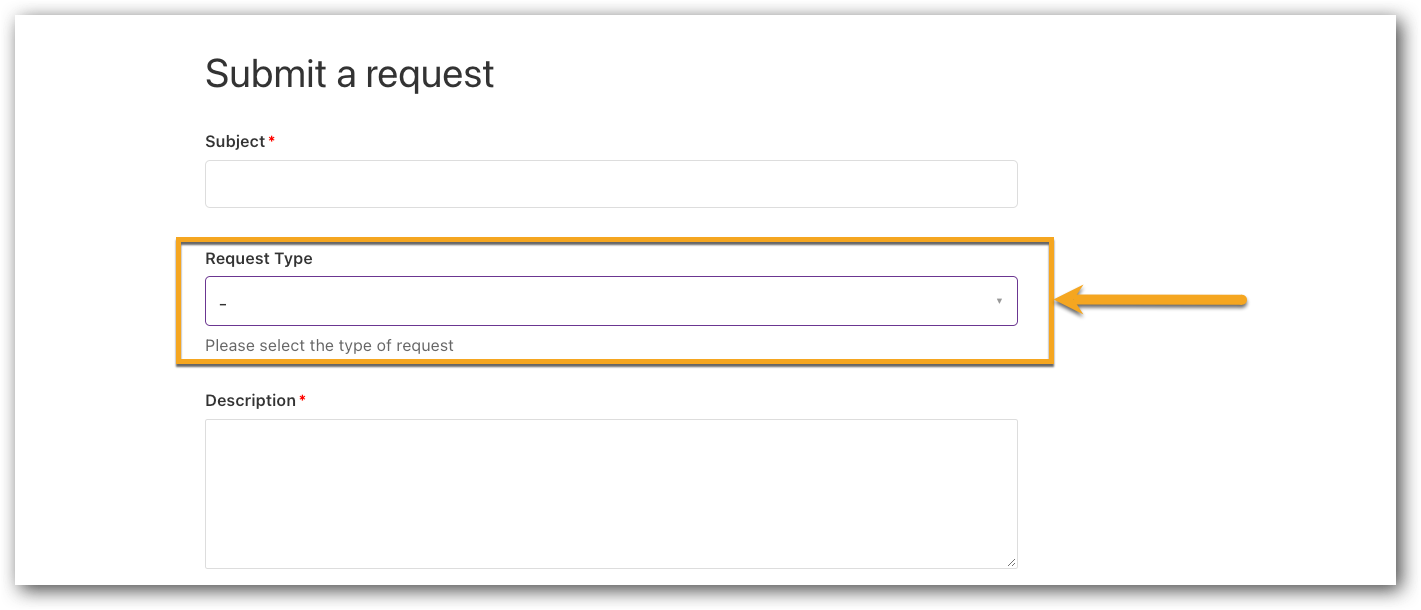 A drop-down with three options to specify who will receive your ticket, Technical Support, Billing, or Sales.
This designation ensures that your ticket makes it to the right team.
Note: This is not a required field, so if you are unsure, you can always leave it blank.