When using an SMS campaign, you may only want to send SMS messages to specific statuses.  Here we will show you how to set the statuses of your choosing.  Please note:  The ONLY statuses that will send SMS messages are the ones you list here.  
In the Dashboard. Go to Call Center and select Campaigns




Under Show Campaigns, Click on the Action Button and select Settings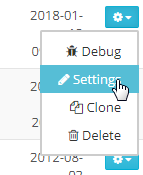 In the Campaign settings page, go to the Dispositions tab.

The Dispositions Section shows the Statuses that the system will allow to send SMS Messages.

Click on Add Disposition to add another status in the list. 


Select the Status from the drop down options.

Click on Apply Changes