The Agent Monitor Screen shows vital campaign information, such as but not limited to: dial level, drop rating, number of dialable leads and total number of agents that are currently logged in. The admin can also monitor the agent's status and can listen to their live calls.
This FAQ will guide us in giving non-admin users access to the Agent Monitor page as well as how a non-admin user can access it.
From the dashboard, click on Account and select Users from the drop down.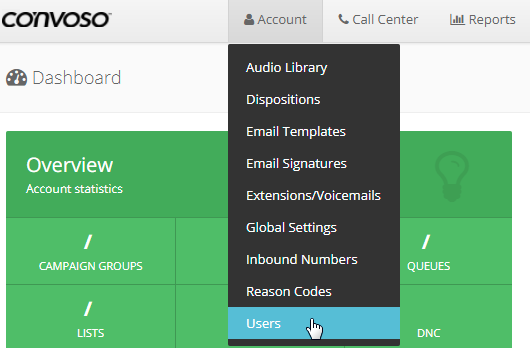 In the Show Users Section, select the user, click on the Action Button then select Settings from the drop down.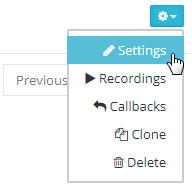 In the User settings page, click on Access Control List tab.



In the Access Control List page, you may now edit the agent's access control parameters. Click on the Create ACL button to create a custom access control list for the agent.



Type in a new name for the agent's custom access control settings in the User ACL box. Click on the  Create ACL button.




Scroll down and put a check Admin Dashboard read capability.

Scroll down and put a check Agent Monitor View read capability.



 Go back to the top part of the page and click the Save ACL button.



Go down to the bottom part of the page and click the Apply Changes button. 



Have the user log in to https://admin.convoso.com
From the Dashboard, click on Reports and select Agent Monitor from the drop down.  The agent will now be able to view the Agent Monitor page.