How To Set Up A Voice Mailbox Greeting
Voice Mailbox: This is where you can set voicemail extensions for each agent and manage voicemail messaging. Leads will be able to leave messages for agents that can then be sent to the agent's registered email address (as long as the email address is valid).
Login to the URL https://agent.convoso.com using your Agent credentials.
Choose a valid Campaign and Availability to complete the agent login process.
(If you want to be safe select a campaign and use the Not Ready availability status)
Once logged into your Omni Agent dashboard, click on the Green Phone Icon in top navigation bar to open the dialer pad.
Select the green VMail button to call into the system Voicemail System.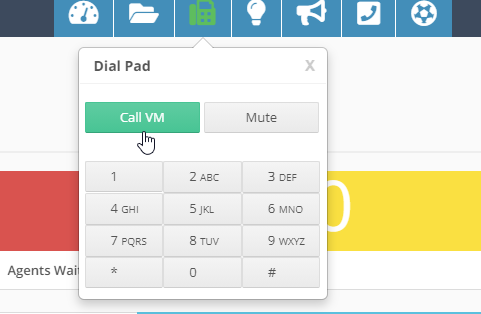 Enter your Voicemail password created by your Omni Administrator.
(If you need to see your password, the admin can log into admin.safesoft.io and navigate to the ACCOUNT > EXTENSIONS/VOICEMAIL > OPEN EXTENSION > Select the Voicemail Tab page to review the users current VM password)
Follow the voice prompts to listen, manage, and explore your voicemail box.
To record a new Unavailable Greeting:
log into your VMail box:
press 0 (mailbox options), then press 1 (Record Unavailable Message)
Below is a complete mapping of your VMail Box Keypress Options:
[1] Read voice mail messages
[3] Advanced options
[1] Reply
[2] Call back(1)
[3] Envelope
[4] Outgoing call(1)
[5] Send Message
[4] Play previous message
[5] Repeat current message
[6] Play next message
[7] Delete current message
[8] Forward message to another mailbox
[1] Use Voicemailnumber
[2] Use Voicemail Directory
[9] Save message in a folder
[0] Save in new Messages
[1] Save in old Messages
[2] Save in Work Messages
[3] Save in Family Messages
[4] Save in Friends Messages
[*] Help; during msg playback: Rewind
[#] Exit; during msg playback: Skip forward
[2] Change folders
[0] Switch to new Messages
[1] Switch to old Messages
[2] Switch to Work Messages
[3] Switch to Family Messages
[4] Switch to Friends Messages
[5] Send Message
[3] Advanced Options
[1] Use Voicemail number
[2] Use Voicemail Directory
[0] Mailbox options
[1] Record your unavailable message
[2] Record your busy message
[3] Record your name
[4] Record your temporary message
[1] Record your temporary message
[2] Erase your temporary message (going back to the standard message)
[5] Change your password
[*] Return to the main menu
[*] Help
[#] Exit

After recording a message (incoming message, busy/unavailable greeting, or name)
[1] - Accept
[2] - Review
[3] - Re-record
[0] - Reach operator(1) (not available when recording greetings/name)