After you have setup a List-Based / Area Code Caller ID, you will need to configure your campaign settings to be able to utilize the area code based calling feature. The Custom Caller ID is a toggle on your Campaign settings where you can enable the Area Code based Caller ID. This is used so that you can change your Outbound Caller ID to match or be near the lead that you are calling.
Follow the steps below on how to configure your campaign's Custom Caller ID.
First, go to Call Center and click on Campaigns.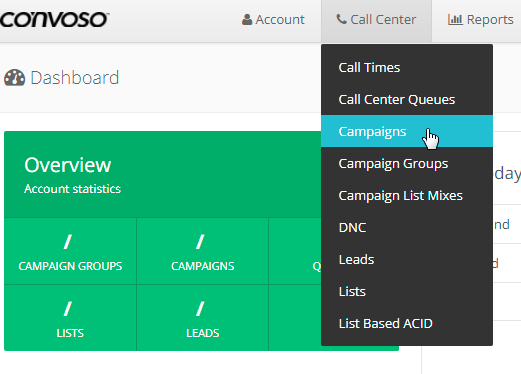 Under Show Campaigns, click on Action button and select Settings



Click on the General Tab





Set the Custom Caller ID as  Area code based Caller ID from the drop down, and select the ACID that you have set up





Go down to the bottom right and press Apply Changes to save the updated settings