Overview
State Call Times is a Campaign tool that supports compliance with state-specific regulations for contacting Leads. These Call Times help facilitate compliant dialing when using either Default or Custom Call Times within your Local Call Times setting.
---
Contents
---
Before you Begin
Custom Call Times are those created by the Admin to utilize instead of one of our Default Call Times.
Call Time settings are configured per Campaign.
---
Viewing State Call Times
1.) Click the Call Center main menu.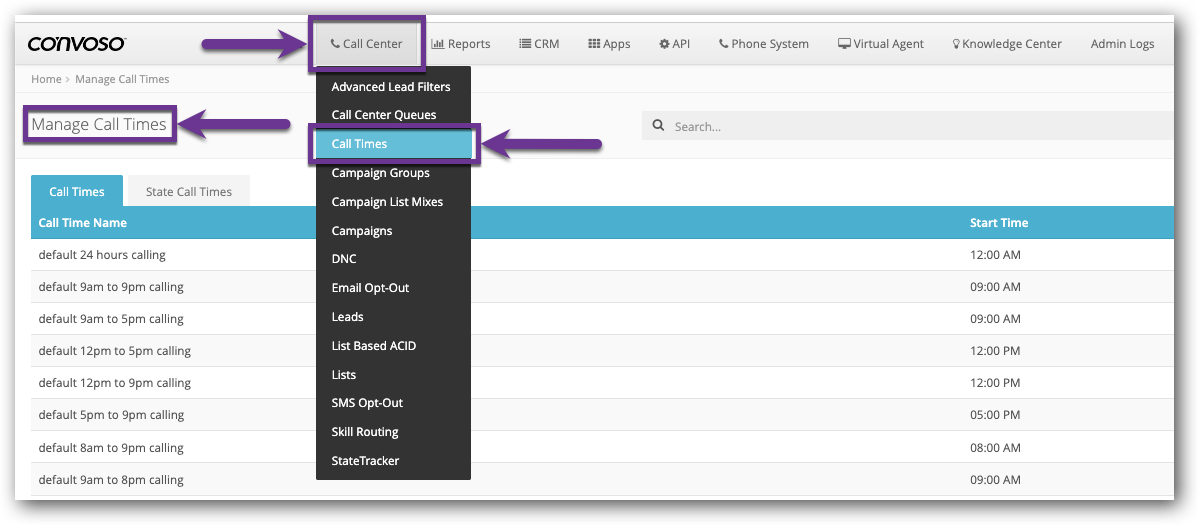 2.) Click the Call Times menu option.
The Manage Call Times page will open on the Call Times tab.

3.) View these state-specific calling schedules on the State Call Times tab.
The rule Names and Start and End Times are in the State Call Times table.
Use the Previous and Next buttons at the bottom-right of the table to change the page you are viewing.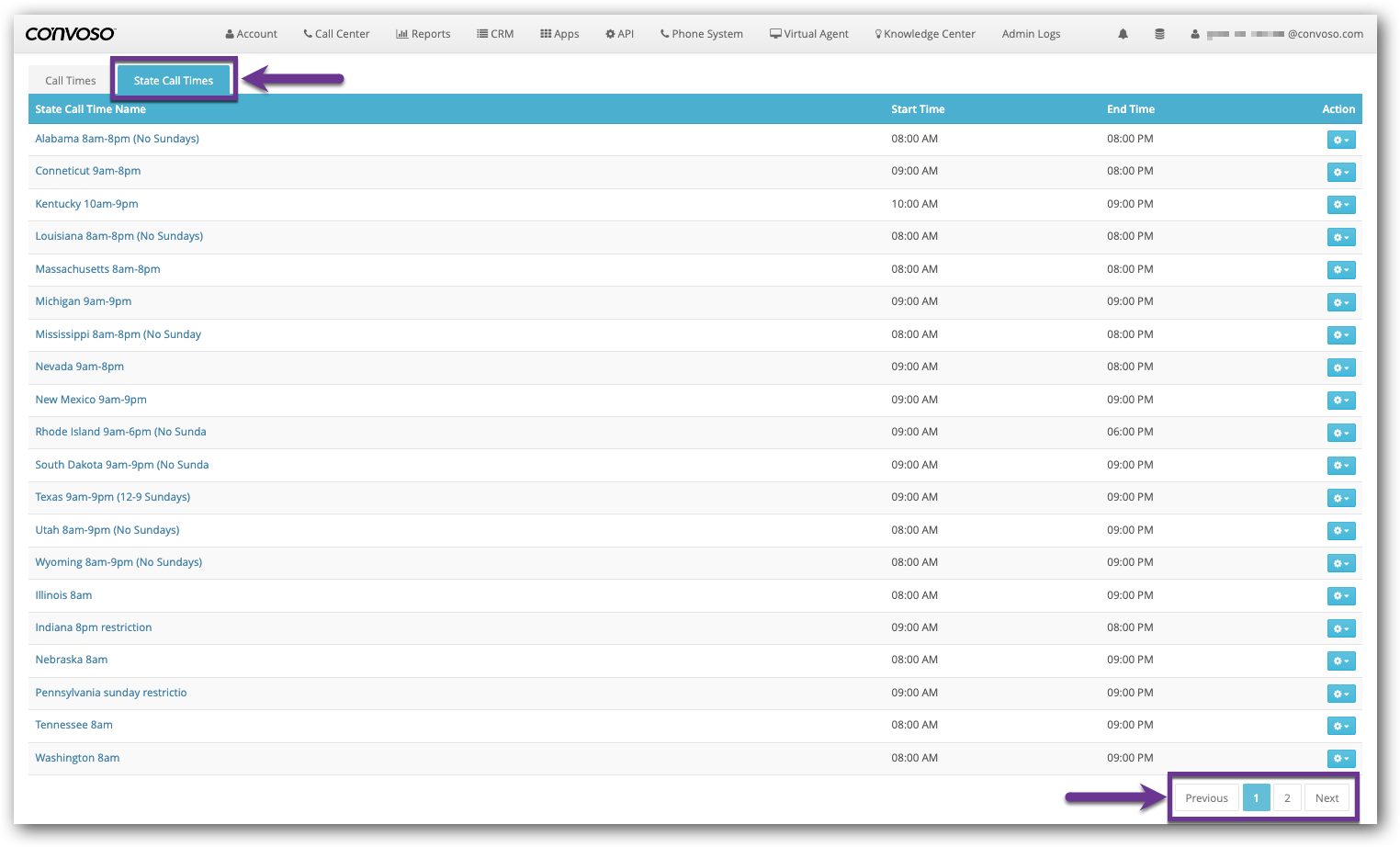 Note: These State Call Times are being updated as of October 2023.
The updated State Call Times will reflect the following:
Illinois Call Time will be 9 AM - 9 PM.

Oklahoma Call Time will be 8 AM - 8 PM.

Minnesota Call Time will be 9 AM - 9 PM.

Washington Call Time will be 8 AM - 8 PM.

Wyoming Call Time will be 8 AM - 8 PM.

Connecticut Call Time will be 9 AM - 8 PM.
4.) Click the State Call Time Name or View in the Action gear-wheel drop-down.

The State Call Time settings page will open and provide a more detailed view of the rule settings.
Note: All State Call Time settings are locked for Account Admins. State Call Times are managed by Convoso teams internally.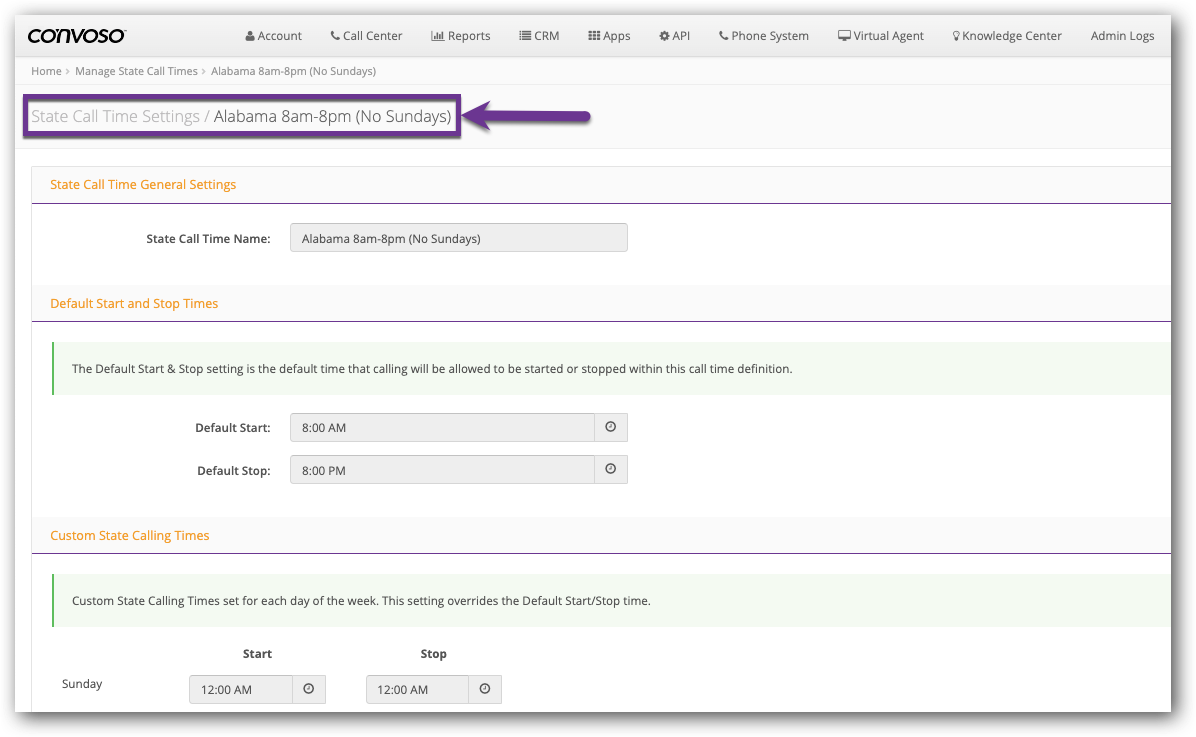 (A) Default Start and Stop Times: This section shows the overall start and stop time for this rule.
(B) Custom State Calling Times: This section shows custom calling times set for individual days. These times override the Default Start and Stop for the days set.
(C) State Call Time Holidays: This section shows Holidays defined for this rule, including Date and Name. On these Dates, the rule would prevent dialing.