A PBX (Private Branch Exchange) is a phone system that allows an organization to manage incoming and outgoing phone calls and also allows communication internally within the organization.
It provides features like transfers, voicemail, call recording, interactive voice menus (IVRs) and call queues and other useful features.
Here we can discuss how you can configure a PBX Recording which you can use as an Audio File to be played for certain PBX features such as Announcements. 
From the Dashboard, click on Phone System and select PBX Recordings


Under Show PBX Recording, select the Recording that you want to edit click on the Action Button and select Edit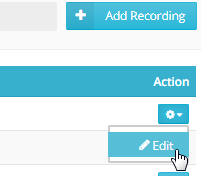 Configure the following: 
Description – The name of the recording.
File - This is the existing Audio File assigned to this PBX Recording, Delete this if needed
Select Audio File – Select the audio file that you want to play for this recording then click on Add



Click on Apply Changes to save the settings.