Dropped calls are the bane of every call center's existence. An inbound dropped call is a call in which the lead has called your service, but no agent was available to take the call. Here we will show you how to check your Inbound dropped calls.
Please note: A percentage for inbound dropped calls can be seen on the Agent Monitor Page.
From the Dashboard, click on Reports and select Call Logs from the drop down.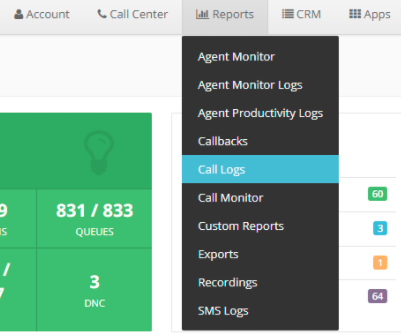 Select the Start/ End Date



Filter by: Queue and select the Queue/s inbound calls came in



Add another filter by clicking on Add Filter


Filter by: Status and select Call Abandoned in Queue



Click on Search
The results will be listed below.