How to setup Jornaya Plugin and Implement it to your Campaign
Jornaya is a software database that let's clients save their lead's historical interaction.
In this article, will guide you on how to setup a Jornaya plugin and activate it to your campaign.
First, you will need to go to Apps > Jornaya.
Then, click on the Add Jornaya button on the top right.

You will come across a popup window asking for the Jornaya token that you will need from Jornaya's end. You will be able to see the token from the campaign code snippet that can be found in Jornaya's portal. Please see their FAQ on getting the token from Jornaya HERE
or you have download the PDF linked HERE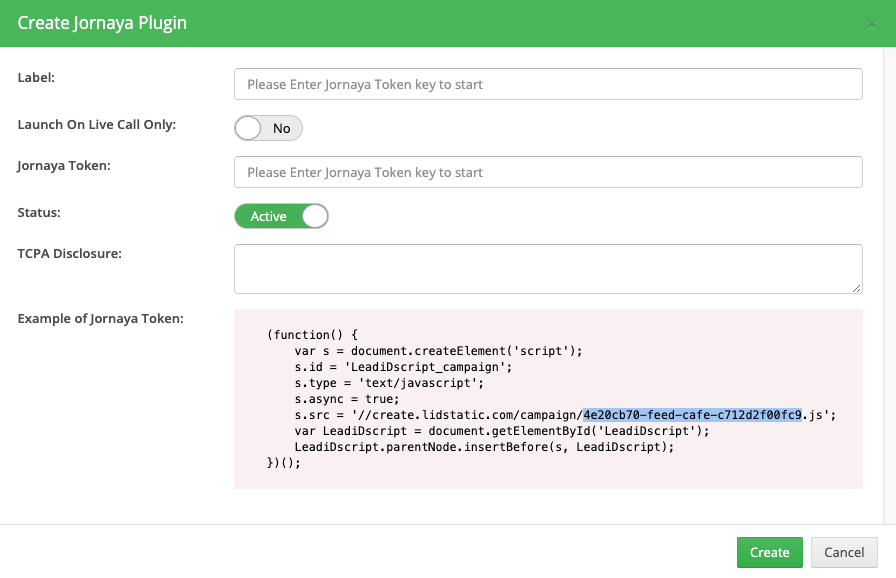 Label - This is the title of this plugin.
Launch on Live Call Only - You can have this only launch on live calls only.
Jornaya Token - Insert Jornaya Token here.
Status - On and Off toggle for this plugin
TCPA Disclosure - You can add the TCPA Disclosure here regarding your Jornaya plugin.


Once you create the Jornaya plugin, you will need to go to your campaigns, go to the campaign settings and under the general tab, you will need to select your Jornaya plugin.