Arguably the most important metric to check is the drop rating. This is due to legal reasons, the drop rating should not be above 3%. Here we will show you how to check your drop rating for each campaign.
From the Dashboard, click on Reports and select Agent Monitor from the drop-down.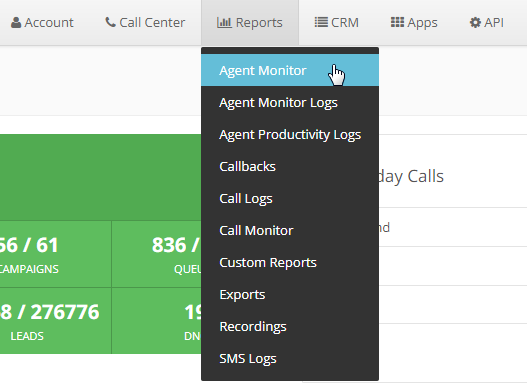 In the Agent Monitor, you can see the below dropped call data for either all campaigns or one campaign.
The default view is the drop rating for ALL campaigns and will give you the average drop rating for all of your campaigns. To change the view, go to the top left corner and use the drop-down to select the campaign you wish to check individually.


OUTBOUND CALLS TODAY: Total Number of Leads Dialed by the system



OUTBOUND DROPPED: OUTBOUND DROPPED/ OUTBOUND ANSWERED (Calls connected to Agents or Contacts)



OUTBOUND (DROPPED/ PLACED): DROPPED=Number of Dropped Calls PLACED: Number of Outbound Calls Received by the Agents.