Preview dial is a form of dialing that allows you to see the lead before it is dialed.  The administrator can set a time limit on how long the lead can be viewed before it is dialed or the agent can dial manually.  Preview dial does NOT auto dial, this is a manual campaign.  The most common use for preview dial is when calling business to business.  With preview dial, you have a better chance of reaching every lead in your lists.  
From the Dashboard, go to Call Center and select Campaigns.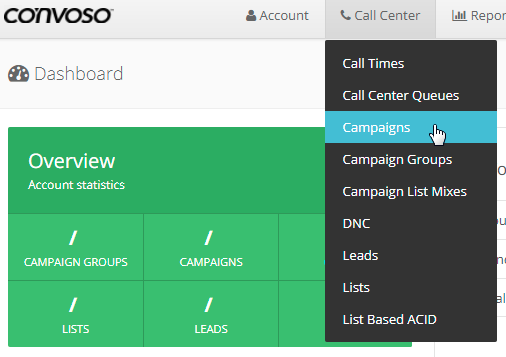 Under Show Campaigns, Click on the Action Button and select Settings.


Click the Outbound Settings Tab.


Under Dial Method, there are 3 types of Predictive Modes.


Predictive Average - Actively throttles your dial level up and down trying to maintain an average for the dropped percentage in a slow pace and not aggressively.
Predictive Strict Limit - it will dial predictively up to the dropped percentage and then not allow aggressive dialing once the drop limit is reached until the percentage goes down again.
Predictive Tapered - Will ask you what time your agents will be logging off and will allow a higher DROP rate on the first half of the shift then throttle down aggressively towards the end of the day to get you back to your limit.
Configure the following if needed:
Dial Timeout: select the number of rings before the call times out (We recommend a setting of 6-7).
Dial Level: select your desired dial level.
Max Drop Percentage: select your maximum drop percentage. This feature won't kick in until 20 calls are placed for the day. If 20 calls are placed within 1 minute and 50 percent of those calls drop, the Adapt Method will cut the current intensity level in half to help stay below the Max Drop Percentage.
Place Calls For Agent While On Call: select never or always This will also place calls for agents who are strictly inbound agents, if those agents are in a call. See FAQ How to configure dialer to place calls for agents while on call
Drop Lockout Time: enable or disable drop lockout time.
Dial Level Difference Agent Target: Enabling this feature will ensure X Agents are removed from the (Agent X Dial Level) calculation.
Agent Target Value: How many agents to exclude from the dial level calculation.
Dial Threshold: Forces the dial level down to 1 if the "Dial Threshold Agents" condition is met.
Click on Apply Changes.