These settings are the introduction to a campaign. They show what the campaign can do at the beginning of a call, such as caller id, call record, and what type of campaign it is.
In this section, the Admin can configure the following settings in Campaign.
Campaign Name
Campaign Name Description
Caller ID
Default 3-Way Caller ID
Custom Caller ID
Status of the Campaign
Campaign Type
Show Layout Options
Call Recordings
From the Dashboard, go to Call Center and select Campaigns.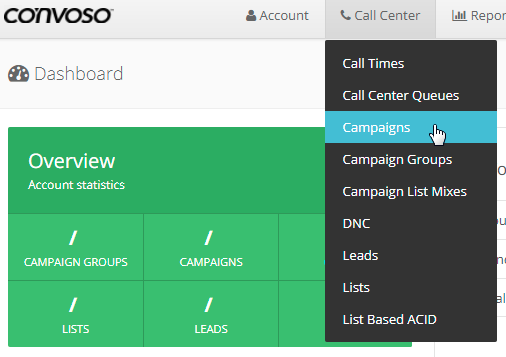 Under Show Campaigns, Click on the Action Button and select Settings.




In the campaign settings page, go to General tab.




You may now configure the Campaign General settings.


Campaign ID: System generated ID when campaign was created.
Campaign Name: Name of campaign.
Description: Additional info or notes about the campaign.
Caller ID: Campaign's default caller ID when doing outbound or manual calls.
Default 3-Way Caller ID: Select the caller ID when doing a 3-way call.
Use Campaign Caller ID.

Use Lead's Phone Number.

User Agents Extension as Caller ID.
Custom Caller ID: Area Code Based Caller ID is an Add On Feature which will match the area code on the caller id to the area code that is being dialed.
Status: Turn campaign on or off.
Campaign Type: Normal, Normal With Intro Message, Survey/Broadcast, Ringless Voicemail, SMS, Conversational AI, and Skill routing.
Additional Campaign Types such as Survey / Broadcast Campaigns are available upon upgrade. Contact your sales representative or call support for more information.
Show Layout Options: Put a check to see which layout is set for the campaign.
Recording Call: How the system records calls in the campaign.
Click on Apply Changes.