Quota is a limited or fixed number or amount of calls or successes that the agent needs to meet. The admin can monitor the agents to see if they have met their quota for the day. 
In the Dashboard. Go to Call Center and select Campaigns




Under Show Campaigns, Click on the Action Button and select Settings


In Campaign Settings, click on Advanced Configurations Tab and click on Quota.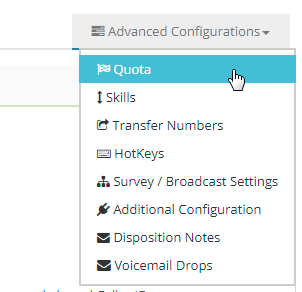 In Campaign Quota Settings, select from the following and click on Apply Changes
Disabled – Campaign quota feature is not active.
Any quota is reached – Notify agents if ANY quota below is reached.
All quotas must be reached – Notify agents only when ALL quotas below are reached.





In Create New Quota, you can add an additional Quota by selecting the Status and Required Quota then click on Add Quota Button.





In Existing Quotas, you can see the progress of all Quotas that you created.