Area Code Based Caller ID or sometimes called Local Presence is a feature that allows you to control the outbound Caller ID based on the area code of the lead that is being dialed.

Area code based caller ID is a campaign specific setting. Campaigns can be configured to use their own set of Area Code Based Caller ID phone numbers.

The campaign will use the default caller ID when no Area code caller ID is found or when a certain Area code is not in the Area code caller ID list. Please Note: Area code based caller ID can be configured to display a seemingly random phone number instead of displaying the actual campaign caller id if no area code is found to match.

Please follow steps below to configure List Based / Area Code Based Caller ID.

From the Dashboard, click on Dialer and select List Based ACID from the drop down.




In Show ACID, click on Add ACID.




In the Create ACID page, type in the name of your new List Based ACID.




Click on Create ACID button in the lower right to create your new List Based ACID.


Click on Add Area Code to add a new entry.


Enable Proximity - is the setting wherein the system will select the closest to an area if there is no DID for it. For example, if your ACID list doesn't have a 310 DID, the system will use another DID which is closer to 310 like an 818 DID if that is available. The default value is set to Yes.
Rotate Caller ID If Not Matched - This setting will select an area code from your ACID list to display if no area code is matched. The default is set to Yes.
Select the Country Code (US, UK,Australia, Japan etc.), type the Area Code and the Caller ID.


Click on Apply Changes button

Upload multiple Caller ID numbers at once

We can also add a list of Area Code Based CID by uploading a CSV file of it. No header needed. Format should be: area code [first column], 10 digit caller id [second column]

Example CSV file




In Manage List Based ACID, click on Upload ACID.




Press Choose File and select your CSV file for upload.

Select Country.

Select --- NEW ACID List --- in ACID List if you are creating a new ACID List, enter the name of the new ACID List in the New ACID Name field.

Select an existing list if you are adding DIDs to an existing ACID List.



Once the upload is complete, the Upload result will be shown that would tell us if there are duplicate or invalid numbers found in the upload. It will also show up the total number of successful uploads.

Press the View the ACID to direct you to the List based ACID settings.


In the List based ACID settings, we can see all the ACID uploaded in our List Based ACID.


Important Note:
The account has an account limit of 20k DIDs for all of the ACID list.
For example, the account has 5 ACID lists, the total number of DIDs in all of those 5 ACID List should not be more than 20k.
Set your campaign's Custom Caller ID


From the Dashboard, go to Call Center and select Campaigns.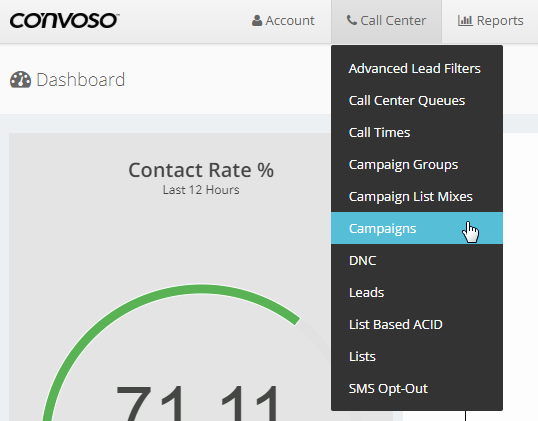 Under Show Campaigns, Click on the Action Button and select Settings.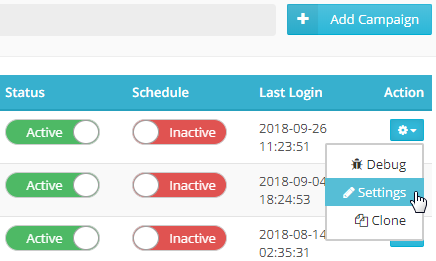 In the General Tab, scroll down to Custom Caller ID.

Set the Custom Caller ID as Area code based Caller ID from the drop down, and select the ACID that was created earlier.


Go down to the bottom right and press Apply Changes to save the updated settings.