A PBX (Private Branch Exchange) is a phone system that allows an organization to manage incoming and outgoing phone calls and also allows communication internally within the organization.
It provides features like transfers, voicemail, call recording, interactive voice menus (IVRs) and call queues and other useful features.
Here we can discuss how to edit Announcements. Announcements are commonly used to play pre-recorded Welcome Messages or Greetings.
From the Dashboard, click on Phone System and select Announcement.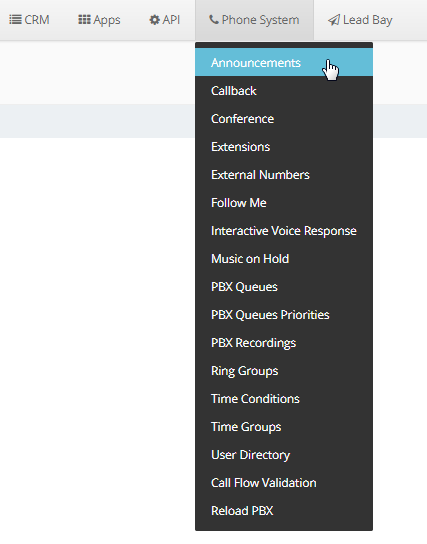 Under Show Announcements, select the Announcement that you want to edit then click on the drop-down arrow under Action and click on Edit.



Configure Announcements Options
Description - The name of this announcement
Repeat - Key to press that will allow for the message to be replayed. If you choose this option there will be a short delay inserted after the message. If a longer delay is needed it should be incorporated into the recording.
Allow Skip - If the caller is allowed to press a key to skip the message.
Return to IVR - If this announcement came from an IVR and this option is enabled, the destination below will be ignored and instead it will return to the calling IVR. Otherwise, the destination below will be taken. Don't check if not using it in this mode.
The IVR return location will be to the last IVR in the call chain that was called so be careful to only check when needed. For example, if an IVR directs a call to another destination which eventually calls this announcement and this option is enabled, it will return to that IVR which may not be the expected behavior.
Don't Answer Channel - Check this to keep the channel from explicitly being answered. When enabled, the message will be played and if the channel is not already answered it will be prematurely delivered. When disabled, the channel is answered followed by a 1-second delay. When using an announcement from an IVR or other sources that have already answered the channel, that 1-second delay may not be desired.
Recording - Message to be played.
To add additional recordings use the "PBX Recordings" link within the Phone System menu above.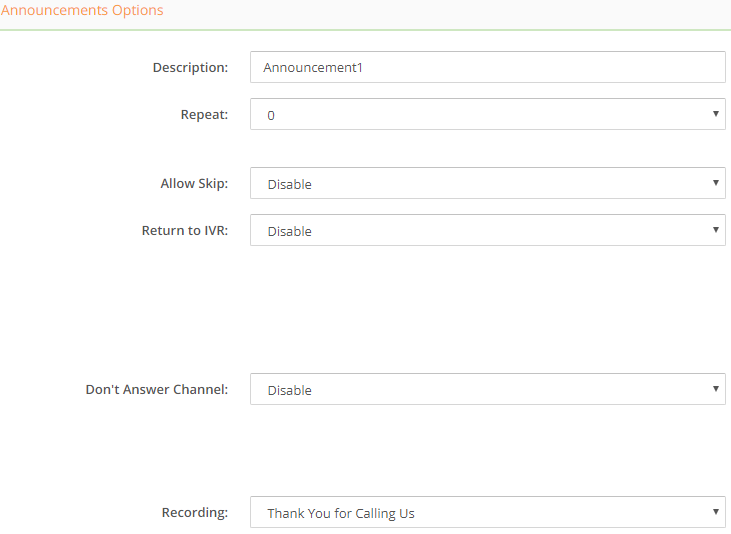 Configure Announcements Destination



At the lower right-hand corner, click on Apply Changes to save the settings.