From the Dashboard, click on "CRM" and select "Scripts" from the drop down.
Click on the "Action Button" of the Script and select "Settings" from the drop down.
Modifying the contents of the Script Pages
Right-Click  "Element or the Page of the Script" and select "Edit" from the drop down.
A huge window will appear almost the size of the browser.

Type the name of the name of the script in  Script Page Name Field,
Enter the body of the script in Body of the Script Field, then click "Apply" button. By clicking the "Apply" button on script node it will automatically save the whole script even if the user forgot to click the Save button on the Script page thus preventing  the loss of the changes already made on the script.
If you want to Auto Populate the script with the information of the lead you can use the Insert Fields Section. Point your mouse to the section where you want to insert the field that contains the Lead Information, In this example, we will add First name Field in the Body of the email.
Click on Fields Selection, and select the field from the drop down. In this example, we'll select First Name. Click on Insert Text button then click on Apply button.
In this example, we added "First Name" in the body of the Script.
If needed, Announcements can also be added to the Script. Click on Available Announcements and select the Announcement from the drop down.
Click on Insert and it will add the announcement in the body.
Right-click Label of the connector and select Edit from the drop down.
Another window will appear. Type the name you want in Label Field and click on "Apply" button. You can also see the Connection Source and Connection Target, which are the pages of the script this Label is connecting.
If you need more pages on your scripts, click on  "Add Elements" button.  New Element or Script page will appear. Modify the contents of this scripts page. You can drag this new Element / Script Page anywhere in this section.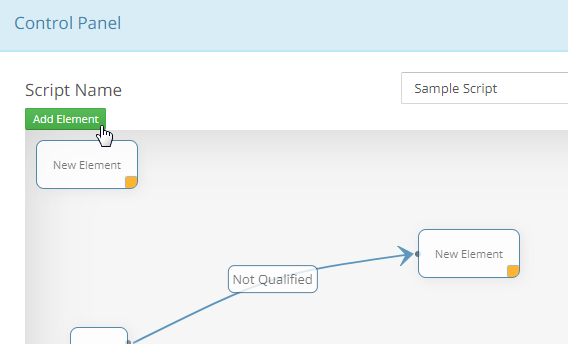 To link the new Element / Script Page to the existing ones, you need to click and hold  the yellow corner of the Source Element and drag it to the Target Element.
After you finish editing the script, you can "Play it "or Preview script,  "Cancel" the changes, or "Save" the changes.
If you Play or Preview the script, another window will appear.

You will see the  Element/ Script Page Name, Body of the Script, and. Links to other Element/ Script Pages.
Just click on "Finish" button to exit the window.
This is a sample of script agent will see.