Queues control Inbound and Transfer functionality.  You can manually add queues to a User. Admins do this to make sure certain queues (like the ones that are coming from inbound numbers) are being received by certain agents.
From the Dashboard, click on Account and select Users from the drop down.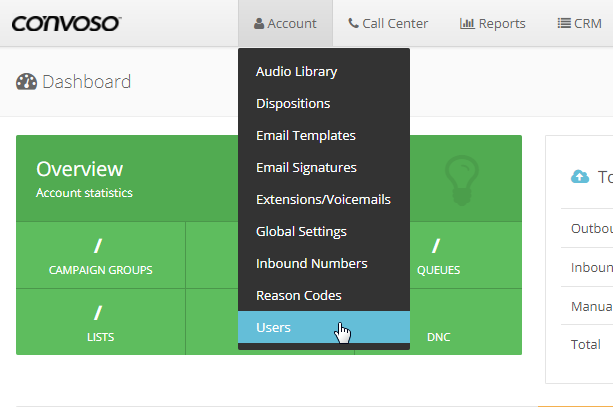 Under Show Users, click Action button and select Settings from the drop down.
Click on "Data Access Level Tab" and scroll down to "Agent Queue Access Level"
In Agent Queue Access Level

Select the Queues from Cannot Access queues box and select the directional button  
Make sure that the Queues you wanted to include are in Can Access Queues
If you want to move ALL Queues, click on ASSIGN ALL button (double arrows)
Queues will be auto assigned to this agent once he logs in unless admin decides not to.
Click on Apply Changes to save the settings.
If you are an admin and Call Center Queues shows no results, you need to make sure that admin Queues are assigned the the Admin Queue Access Level.
See This FAQ How to assign Call Center Queues to Admins