Agent hotkeys can be used to quickly disposition calls by pressing a key or combination of keys set by the admin.
This FAQ will guide you in using the agent hotkeys.
Note: Your admin can set your campaign's hotkey settings on or off, for that reason this feature may or may not be available for you to use.
In a call, click on your Email Address and select Hot Keys.

Please press the Hot key button to open the Hot key window.
In the Hot key window you will see the key combinations your admin has setup.
Note:
The key combinations may be different depending on what your admin has setup for you.
Auto Hangup Call - This added feature, if set to yes, will automatically hang up a live call when an agent uses any hotkey available.
The Auto Hangup Call can also be turned on or off by your admin.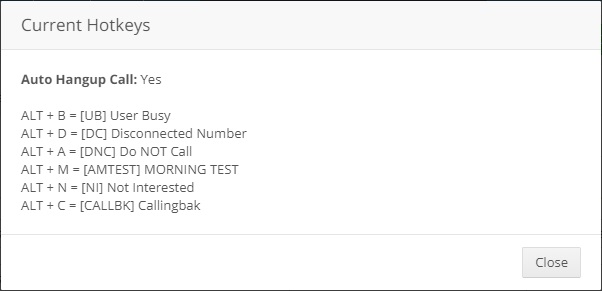 Now that we know what hotkeys are available, we can now use these on a call.
If Auto Hangup Call feature is turned on. You can use the hotkey to quickly end the call and automatically set a disposition that for the hotkey you pressed. (The disposition window will not appear in this scenario)
If Auto Hangup Call feature is turned off. You will need to manually hang up the call by pressing the Hangup button.

In the Disposition window, press the desired Hot key to easily disposition the call and automatically close the disposition window.