Visualize and analyze your data at a glance. This feature's main purpose is for you to create an insightful dashboard to track your key performance indicators (KPIs). We are keeping in mind that every Admin has their own vision of a successful dashboard. We give each individual the ability to build the dashboard based on their preferences and what data they consider to be relevant.

Accessing the Dashboard Page
When you login to the admin page, the Dashboard is the first page that will welcome you. You may also press the Convoso logo in the upper left corner to access the dashboard from any part of the Admin page.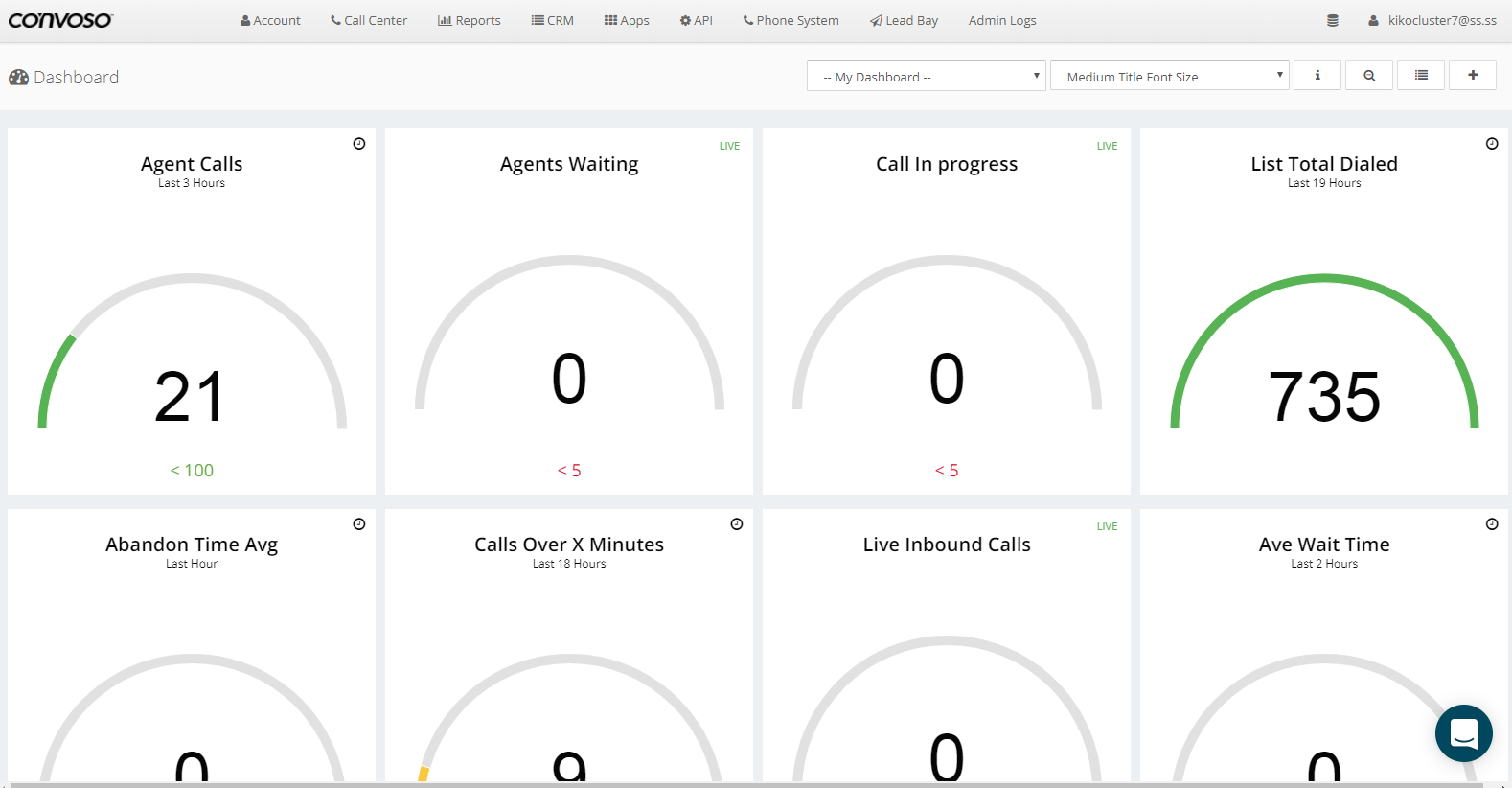 Dashboard Menus
There are a four function buttons we can utilize within the Dashboard's main page.



My Dashboard -  gives you the ability to look at dashboards that other Admin had setup. Editing graphs is disabled when viewing other Admin's dashboard.

Title Font Size – You can easily set the font size of all your graph's title with this option.

Zoom in/out – Used to zoom in/out all the graph within the dashboard page.

List of Graphs to be Displayed - contains the list of graphs that can be displayed.

Dashboard can display up to 8 Graphs.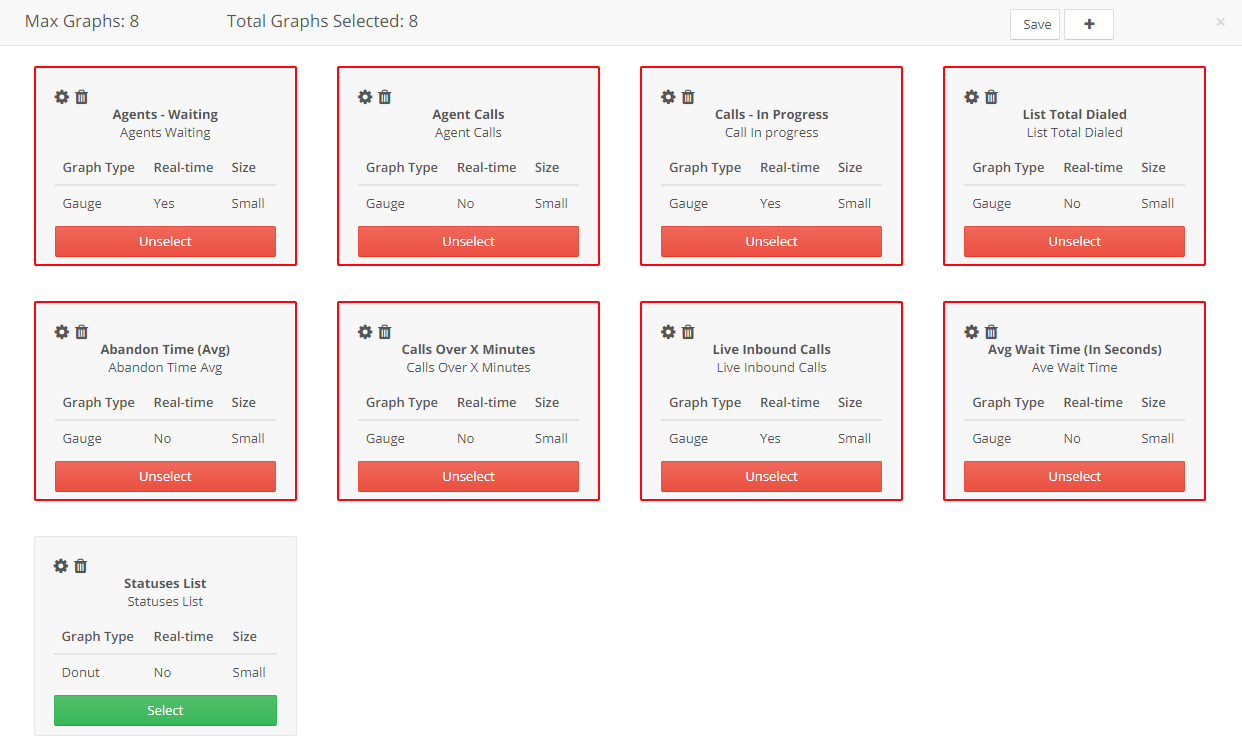 If there are more graphs created, a message will appear .

To Hide or Display a graph from the Dashboard click on the Select/Unselect button.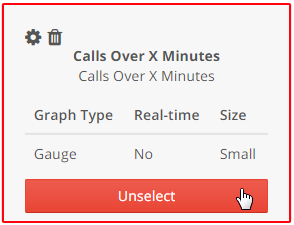 Create Graph – Used to create a new graph.


Creating a Graph

Within the Dashboard page, let's go ahead and create a new graph by pressing the + sign in the upper right part of the page.


What is a KPI or Key Performance Indicator
A Key Performance Indicator (KPI) is a measurable value that demonstrates how effective your team is achieving your business objectives. It basically helps an admin of the company to gauge its performance over time.
Choosing a Key Performance Indicator (KPI)
In the Create Graph window, press the the KPI drop down option and select your preferred Key Performance Indicator (KPI)
Choose from the following available KPI:
Abandon Time (Avg)
Agent Calls
Agent Leaderboard – This is a great way to see which agent has the highest number of success calls such as Sale. Certain KPIs such as this requires you to select a campaign, list, status/disposition and queues in its configuration.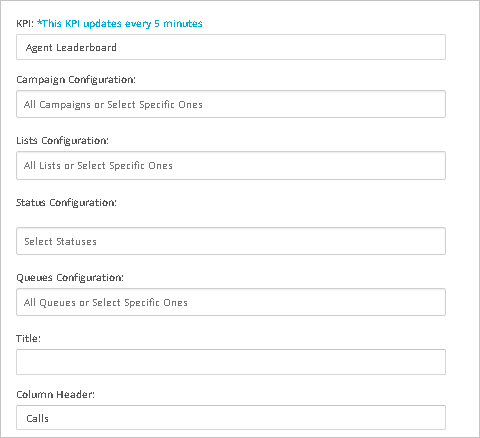 Agent Wait Time %
Agents – Waiting
Agents Online
Avg Wait Time (In Seconds)
Calls - In Progress
Calls Over X Minutes
List Contact Rate %
List Net Conversion %
List Total Dialed
List Total Handled
Outbound Calls Ringing
Statuses - There are two requirements for the Status KPI, you need to set a List and Status to generate the data.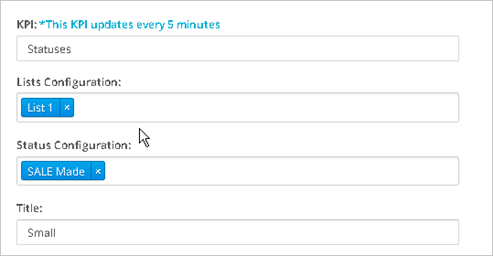 Completing your Graph's information
Enter your graph's name in the Title box.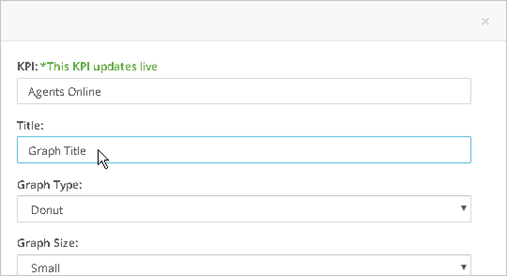 Select your Time Filter.
Time Filter would be the time frame in which the system will gather the data that is needed to calculate your KPI. Time Filter can be set as far as the Last 24 Hours.
Note: Live KPI such as Call – In Progress and Agents Online etc. does not need a Time Filter.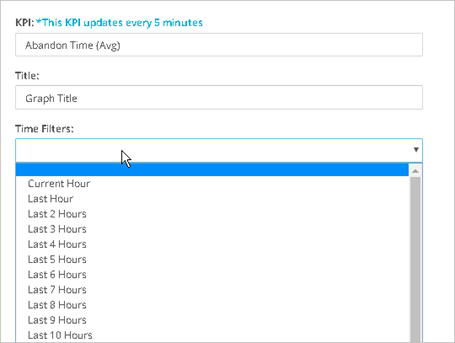 Choose your Graph Size.
A row in the Dashboard page can hold four small Graphs. A small graph is equal to 1/8 of a row. Medium is equal to 1/4 of a row. Large is equal to 1/2 of a row and takes 2 rows in height.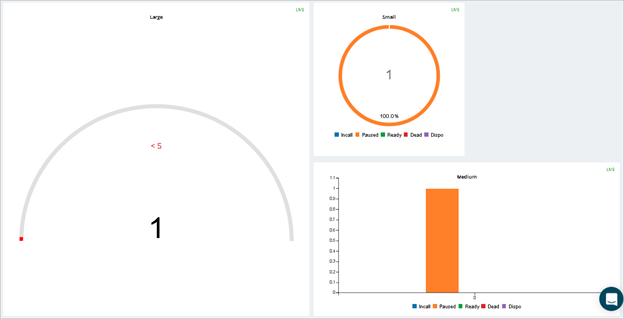 Configure your graph's Threshold.
The Threshold is the minimum or maximum value (established for an attribute, characteristic, or parameter) which serves as a benchmark to review your current performance.
Most Graphs will have 2 boxes where you fill in the threshold but in Gauges you need to determine the limit (4th box). The ranges will have colors from red -> yellow -> green but the order can be switched by pressing the two arrow button on the right side of the threshold.
Typical Threshold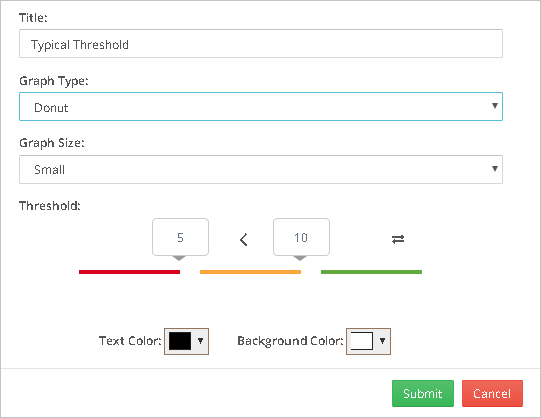 Gauge Threshold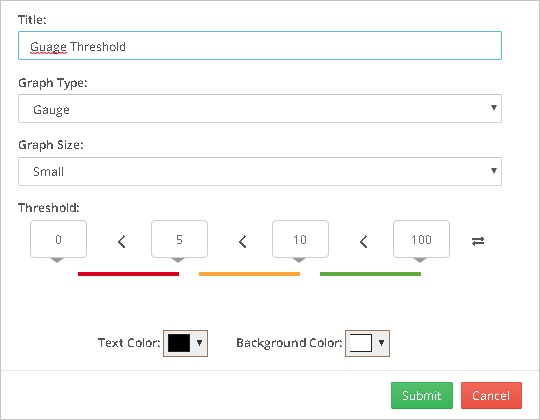 Adding Colors to your Graph
You may further personalize your graph by adding Text and Background Color to it.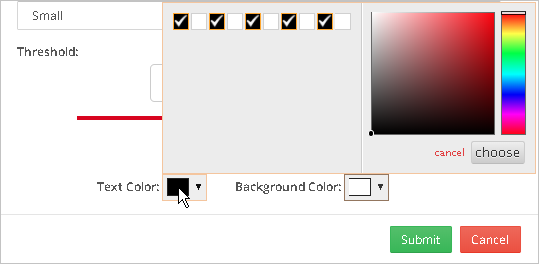 Once you have completed all settings of your graph, press the Submit button in the bottom right side of the page to complete creating your graph.


What is Live and not Live KPI
Live KPIs are updated every 5 seconds, otherwise if it's not live, it will update every 5 minutes.

Customization
Editing your Graph
You can always edit a graph by pressing the gear icon in the upper left corner of your graph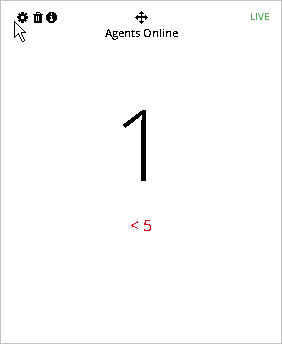 Re-arranging your Graphs
Graphs can be re-arranged by simply dragging them and dropping them to your desired position in the Dashboard page.


Deleting a Graph
You can delete a graph by clicking on the Trash icon in the upper left side of it.